We had 33 members for this trip. This was the first outing after the 18 months pandemic lock downs. People were understandably nervous. In order to give more space on the coach, Lisa booked a 53 seater coach so that everyone would feel more comfortable. As everyone arrived, Lisa took everyone's names and also took body temperatures and made sure that each person had a hidden disability lanyard.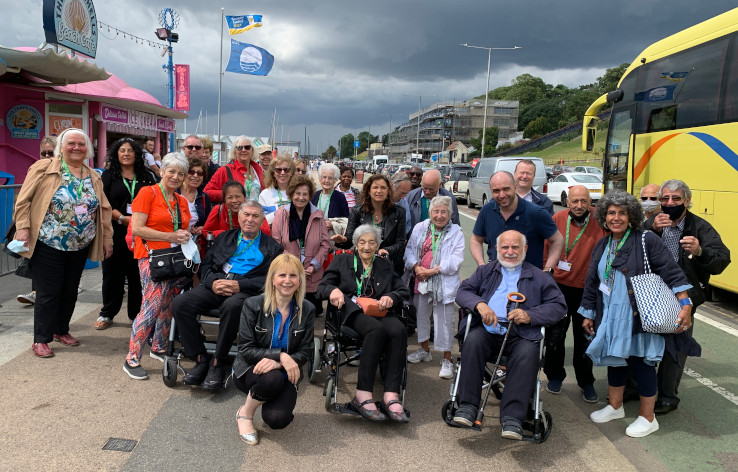 The weather was cloudy with a bit of sunshine. It was not as hot as the week before but it was just fine. When we arrived at Southend, Lisa first went to the pier to get the tickets for the train and then gathered everyone together for a group photo before everyone went into the restaurant SANDS for their fish and chips lunch. The service was excellent and the fish and chips was the best. After lunch some members decided to go off on their own and do their own thing and others were enjoying the view of the sea from the restaurant which was magnificent.
Some of us then decided to go on the pier and all was fine until we discovered that the restaurant on the pier was closed unfortunately so we could not have our cup of tea. Hell then broke loose when it started to rain becoming a downpour with thunderstorms and cross winds which made it very difficult to actually walk. We all had to hold on to each other tightly. It was such a relief to see the train after 15 minutes of waiting to get back.
Although we were all wet and exhausted fighting the wind, everyone really thought it was an exciting adventure.
When we got back we managed to get a cup of tea and a rest before boarding back on to our coach for home.